To create your own ASMR channel you need the following:
A camera to record video
A microphone to record audio
Software to edit your videos
A YouTube channel to publish your ASMR videos
Other than that all you need is some creativity to come up with a good channel name and ideas on what type of ASMR videos you will be creating.
What camera to use for ASMR?
The least expensive and quickest way to get started recording ASMR videos is to use your mobile phone or webcam. Make sure to read our review of the best ASMR cameras if you are interested in taking your ASMR videos to the next level.
What kind of microphone do I need to produce ASMR videos?
Just like in the case with the camera using your mobile phone or webcam is the easiest way to get started recording ASMR audio. Some of the most popular ASMR artists actually started out using the microphone on their mobile phone headsets so don't be afraid to start out simple!

If you are looking for a more serious setup, check out our review of the best ASMR microphones.
What video editing software should I use to edit ASMR videos?
You need video editing software to transform your raw videos into something more polished that you can publish to your ASMR channel. There are plenty of good options regardless of if you want to keep the cost down and go with an open-source solution or pay for a premium product. Here is a list of our recommended video editing software:
How to come up with an ASMR channel idea
Here are some different ways to come up with ideas for an ASMR channel:
Get inspired by existing ASMR channels
Watch ASMR videos from existing channels and read the feedback from the viewers. Perhaps they are asking for topics or concepts that you could do well?

Use your uniqueness!
Whether you have an exotic accent, a cute laugh or a greate sense of humor – make sure to use your uniqueness to your advantage!

See whats trending
Try to get a hang of trends in the ASMR community by following different ASMR channels. You could also use Google Trends to see what ASMR related search queries is currently trending!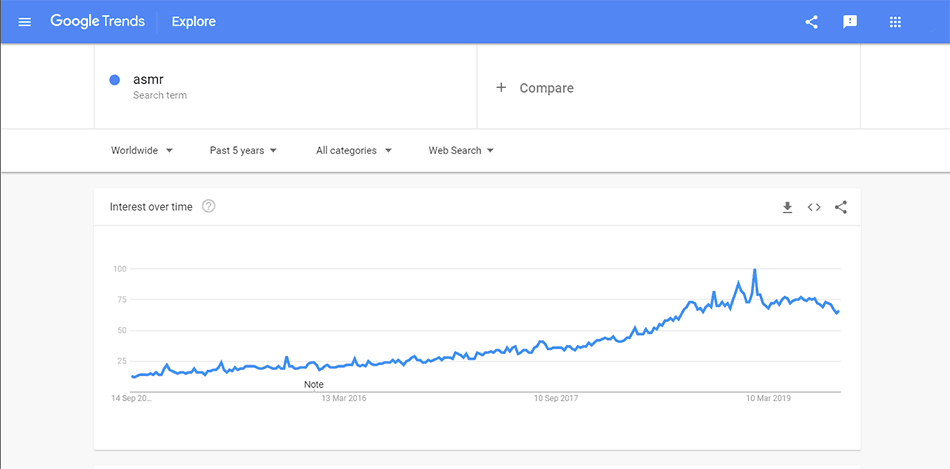 How to create an ASMR channel on YouTube
The first thing you need to do is to create a YouTube channel. Simply follow Google's official guide on the topic:

https://support.google.com/youtube/answer/1646861?hl=en
What is a good ASMR channel name?
When trying to come up with ideas on what to name your channel, try to keep it short and easy to remember! While it's certainly not a must, putting ASMR in the channel name is a great way to help people identify your channel as part of the ASMR community. If you're going to focus on certain ASMR triggers you could also let your channel name reflect what kind of triggers your videos will focus on.
It may be a bit difficult to find a short channel name with 'ASMR' in it as YouTube will not let you create a channel with a name that already exists but even channel names with 3-4 words can work out just fine. If you need inspiration, just run a search on YouTube for the term 'ASMR'!
How to write a channel description for an ASMR channel
Just like in the case of picking a channel name, make sure to keep your description short (between 150 – 200 words) and to the point. The first part of the description will be shown in the Google search results so it needs to be as descriptive and selling as possible!

You can follow this part up with the different ways to get in contact with you: email, Facebook, Instagram, Twitch etc.
How to get subscribers to your ASMR channel
When people browse through the list of videos in the search results the thumbnail along with the title of the video will determine if they will click to watch it or not. Spend time making sure your thumbnail is eye-catching and that your title will create an interest for more!
Once you get viewers the next step is to get subscribers. A really good way to get subscribers is to interact with your viewers by reading and responding to feedback. Make sure to read through the comments and respond to as many as possible. By doing this you create a closer relationship with your viewers and the likeliness of them hitting that subscribe button will greatly increase!
The general rule here is: publish high-quality content and your videos will get views and your channel will get subscribers!
How to create artwork for your ASMR Channel
Channel artwork is another vital aspect of creating a YouTube channel that will attract viewers. It's a great way to promote your channel and to communicate what your channel is about. YouTube recommends the top banner to be 2560 x 1440 pixels, so there is plenty of space for you to work with.
If you feel you have the skills to create your own, open up your favorite graphics app, and get busy. If not – well, there are still options available! There are plenty of skilled art designers available at sites like Fiverr, and if you spend some time, you will surely find someone who is not only cheap but also more than capable of providing your channel with some excellent artwork.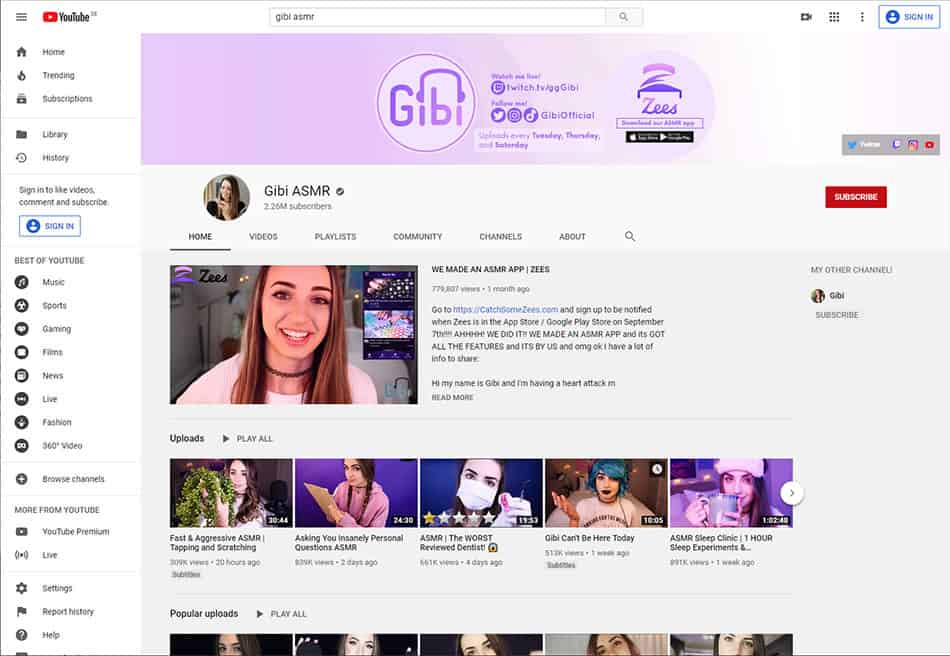 How to promote your ASMR channel
With ASMR becoming more popular the number of ASMR channels is increasing as well. In order to stand out, you will need to make sure your videos stand out in the search results of YouTube as well as Google. Put effort into making great thumbnails as this is your best shot at getting seen and also make sure your headlines are short and descriptive. Interact with your viewers by asking for requests and responding to comments.

Creating a playlist with your videos is also a great way to let viewers watch multiple of your videos in a single session. You could also publish events where you go live using YouTube Live and get some real-time interactions with viewers.

Maybe run a contest or use Social Media to promote your premium content? There are plenty of ways to get seen but at the end of the day, high-quality content is your best shot at increasing a steadily increasing viewer base.
How to deal with feedback on your ASMR channel
We've already established that interacting with your viewers is a crucial part of running a successful ASMR YouTube channel. But how do you respond to the feedback from your viewers? First, always make sure to respond to feedback in a polite manner regardless of if you agree with the feedback left or not. If the feedback is negative, see if you can learn something from it and perhaps even include it in an upcoming video. If the feedback is positive it's a good sign you're doing something right! Even though you want to make your viewers happy it's equally important not to stray too far off from your core idea of your channel!

Use the feedback to your advantage and appreciate the fact that someone actually went through the trouble of letting you know what they thought of your work! Good luck!